Posted on
14th Oct 2021
in
POC Two-Way Radio Phones, vs Two-way Radios or Mobile Phones
The advantages and disadvantages of two-way radios over smartphones for business use, plus Push-to-Talk over Cellular options that combine the best of both in one "two-way radio phone" device.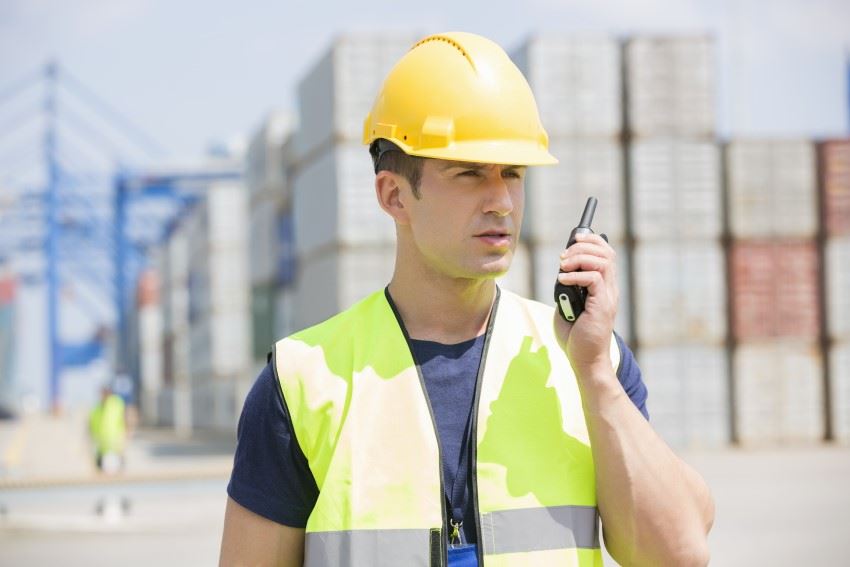 When we originally wrote this article, back in 2016, it was a straightforward list of the advantages and disadvantages of two-way radios compared to mobile phones.
For some, that's still a valid comparison, and we've kept those comparable points here to help you choose the best platform for business communication. But new options have emerged since then which can offer you the best of both worlds, either through an app on your existing phone, or a standalone device commonly referred to as a two-way radio phone.
Push-to-Talk over Cellular (PoC) solutions now enable you to combine advanced smartphone technology with many two-way radio features over 3G, 4G, or WiFi networks, using your existing Android or IOS cell phone if you wish or an alternative compatible device.
With this in mind, we'll also include a summary of how PoC works, so you have even more options to find the best way forward.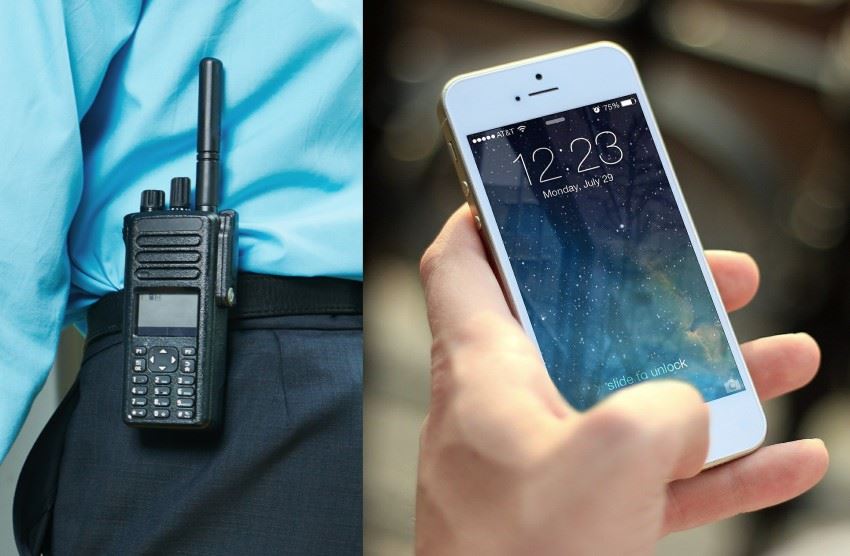 Two-way radio vs Mobile Phone – a simple comparison
Almost every one of working age now owns a mobile phone. The technology continues to evolve with each launch of a new model, and most people are familiar with using them. Good 4G coverage is widely available in the UK now, and 5G coverage, while still limited, is starting to roll out in some areas.
So why, you might be wondering, would you be better off using a two-way radio at all? Well, for businesses, a two-way radio actually has many advantages over a mobile phone.
Two-way radios
Advantages
Instant connection, no waiting for a connection to be established.
More durable against water than most mobile phones (some have IP ratings that makes them almost totally waterproof and dustproof)
A robust build leaves radios less prone to damage from knocks and drops and they won't bend out of shape like a mobile phone!
Talk to multiple people at once.
No monthly contract or call credit required
Safety features such as Man Down, Lone Worker and Emergency Alert
Potentially better battery life
Two-way radios operate on a private network, with security features such as encryption to help prevent eavesdropping. This is especially important for sectors dealing with personal or confidential information such as education and healthcare.
Disadvantages
Can require a licence, although licence-free options are available
Mobile Phones
Advantages
Can phone anywhere in the world as long as there is a signal.
No licence is required to operate.
Disadvantages
None of the safety features found on two-way radios that would benefit lone workers or workers in remote locations
Have to wait for a connection which can result in a significant delay. This is not ideal for short messages if it takes longer to contact someone than the message's length.
Not durable compared to most two-way radios due to a large fragile glass screen and thin body. Some have protection against water, but most don't.
You can only talk to one person at a time. This means you need to make multiple calls to get a message across to more than one person.
Mobile signals get jammed during times of heavy use. This could be disastrous during a critical situation.
Requires signal from a phone tower. Signal strength may not be ideal in some rural or remote locations.
Push-to-Talk over Cellular solutions
As we mentioned above, Push-to-Talk over Cellular (PoC) can be a very attractive option for users who need the advantages of both mobile phones and two-way radios. It uses existing 3G, 4G, 5G and Wi-Fi networks, enabling you to create a cost-effective communication network that combines the functionality of two-way radios and smartphone technology in one device.
Easy to set up
No Ofcom licence requirements
No limits to an area or site, it can be used wherever there is 3G, 4G/LTE, 5G or Wi-Fi coverage
Users can have one-to-one or one-to-many calls
Many features are normally associated with two-way radios on a compatible "two-way radio phone" device, or via an app on your existing phone or tablet.
Push-to-Talk solutions can be used with compatible devices, several of which we've described and recommended here, or you can buy a PoC app that enables your existing phones and tablets to connect to two-way radio infrastructure.
This is a fast-growing sector that gives customers a better alternative to a simple choice of "two-way radio vs mobile phone". Please get in touch if you'd like more information.
Original Artice: https://www.radiotrader.co.uk/news/poc-two-way-radio-phones-vs-two-way-radios-or-mobile-phones.htm
Related posts